Valentines Day Inspo
Whether you're treating yourself or treating someone else, it's always a fun time dressing up for Valentine's Day. Here's a little outfit inspiration I put together for any Valentine's Day occasion, and what I would wear. Enjoy, all the pictures are linked. xoxo
Galentines
This kind of night calls for lots of chocolate, strawberries, and champagne. If you're not in your PJs with friends, then I'd go for something casual that you still feel super cute in. One of my favorite go-to's have to be my favorite lace-up black jeans (find at Zara or Forever21), a shirred bandeau top, and white platforms. For an added pop of color, I'm obsessed with this phone case that I custom designed on CaseApp. (Use code GLANZ20 for 20% off your order until 2/9)
With the same outfit as above, swap out the white shirred bandeau for this straight neckline tank with hearts all over. This is so adorable for Valentine's Day and it looks like something from Are You Am I. The best part about this? It's literally $7.90.
White sneakers are everywhere (thanks to Gucci). This is one of my favorite pairs I've seen online because of how cute and subtle the heart details are. Valentine's Day is honestly just the best excuse to pick these up and wear them year around.
Semi-Gucci Inspired White Sneakers
This sweater is so extra and I am digging it. If this doesn't totally scream Valentine's Day I really don't know what does.
Flirty Date Night
Polka dots and wrap tops have been everywhere lately — and this top combines these big trends into one. Wear this with the matching skirt or pair with your own fave black high-wasted jeans and booties.
This dress creates a beautiful, flirty, and fun vibe. I'd wear this to any elegant dinner with the boyf. Pair it with thin-strap stilettos to accentuate your legs to feel extra sexy.
If you're looking for something a little more toned down for date night - I absolutely love this gingham tie dress. This is such a simple and flattering dress.
Girls Night Out
Everyone knows how powerful and sexy the color red is when you wear it. For a night out, this silky bralette would work perfectly with high-waisted jeans and lace-up heels or a wrap mini skirt and booties. You can never go wrong with this style and color on a night out.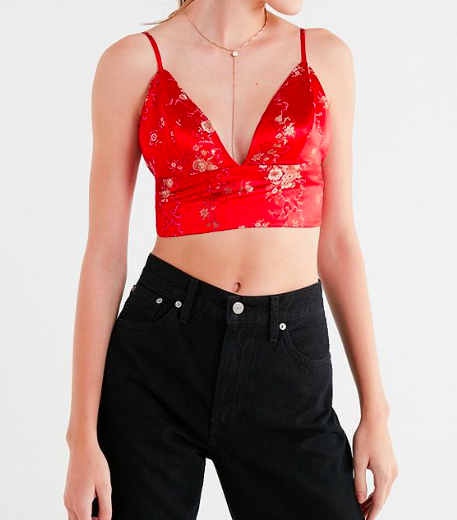 I'd pair this high-slit skirt with an allover mesh top with a detailed bralette peeking out. This combination is the perfect amount of sexy and sweet. Wear with strappy heels to tie the look together for a night out.
Go anti-Valentines and wear all black with your gfs out. For a pop of color, this Free People bag is to die for.